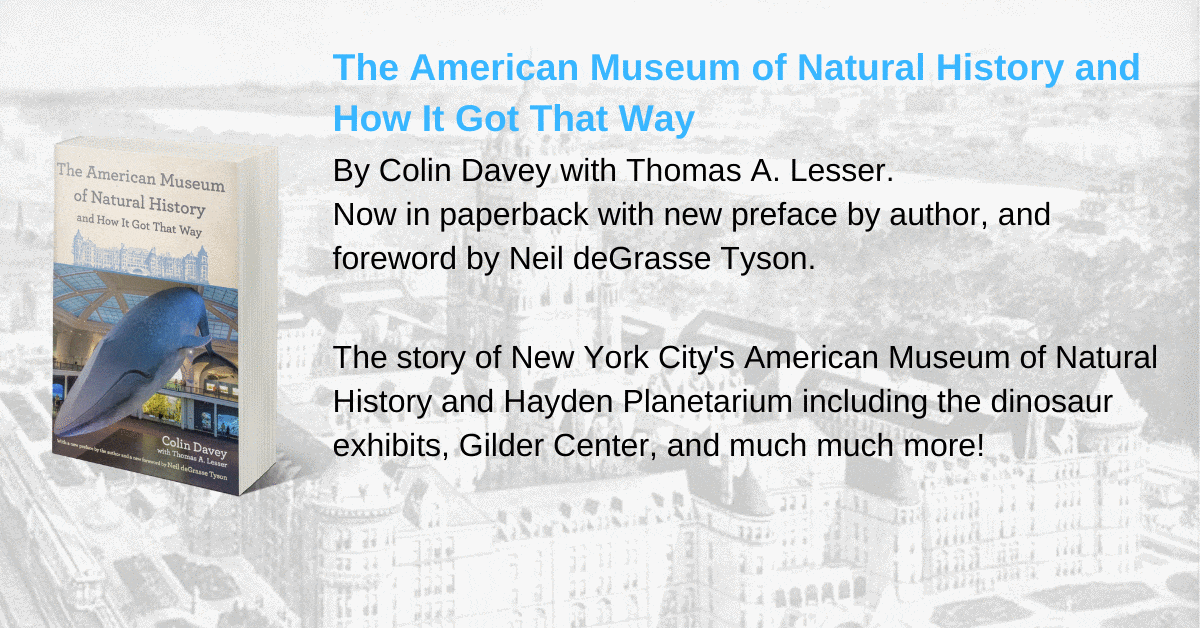 Description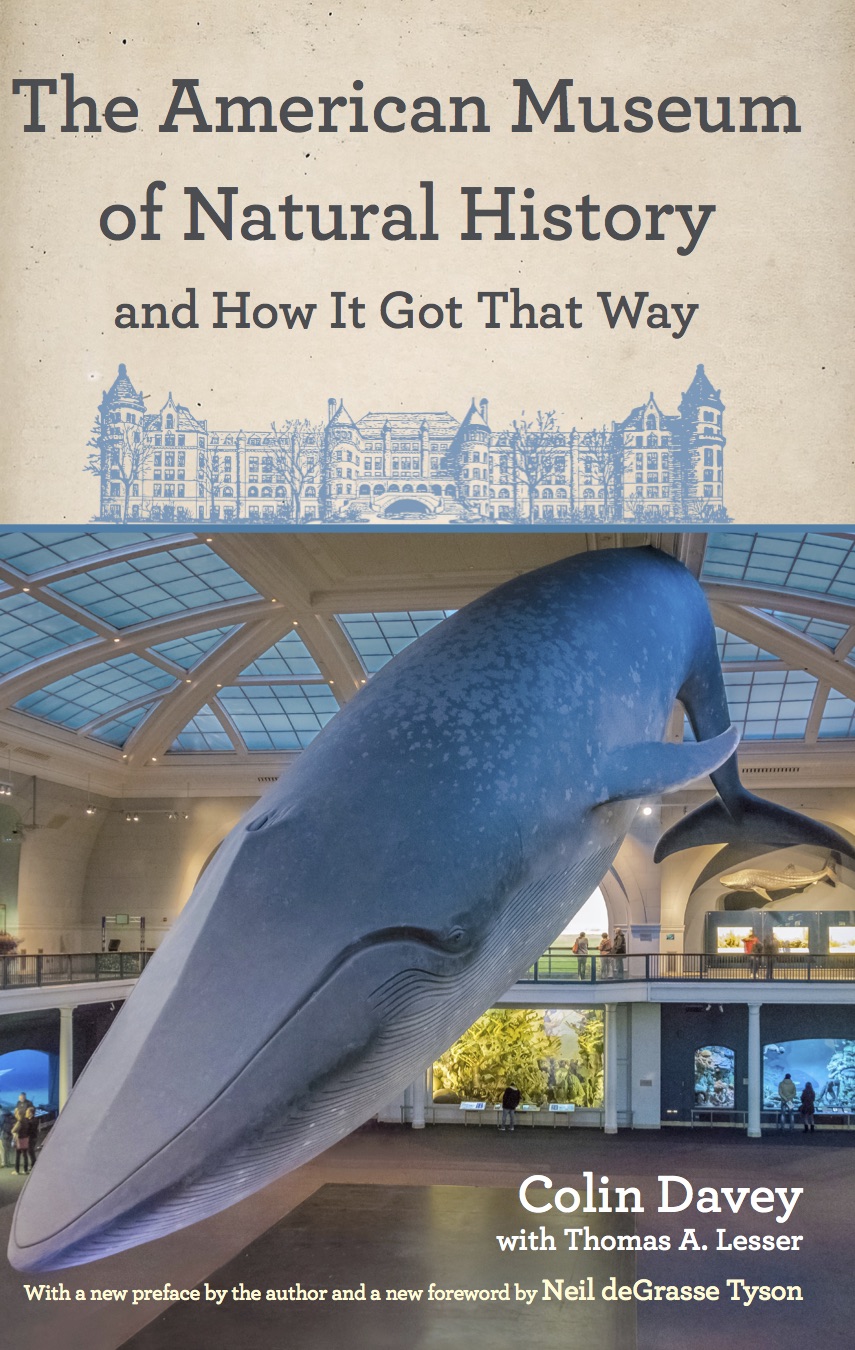 With a new preface by the author, and foreword by Neil deGrasse Tyson, The American Museum of Natural History and How It Got That Way tells the story of one of New York City's most beloved institutions, and one of the largest, most celebrated museums in the world. Since 1869, generations of New Yorkers and tourists of all ages have been educated and entertained here. Located across from Central Park, the sprawling structure, spanning four city blocks, is a fascinating conglomeration of many buildings of diverse architectural styles built over a period of 150 years. The first book to tell the history of the museum from the point of view of these buildings, including the planned Gilder Center, The American Museum of Natural History and How It Got That Way contextualizes them within New York and American history and the history of science.
Part II, "The Heavens in the Attic," is the first detailed history of the Hayden Planetarium, from the museum's earliest astronomy exhibits, to Clyde Fisher and the original planetarium, to Neil deGrasse Tyson and the Rose Center for Earth and Space, and it features a photographic tour through the original Hayden Planetarium.
Author Colin Davey spent much of his childhood literally and figuratively lost in the museum's labyrinthine hallways. The museum grew in fits and starts according to the vicissitudes of backroom deals, personal agendas, two world wars, the Great Depression, and the Cold War. Chronicling its evolution―from the selection of a desolate, rocky, hilly, swampy site, known as Manhattan Square to the present day―the book includes some of the most important and colorful characters in the city's history, including the notoriously corrupt and powerful "Boss" Tweed, "Father of New York City" Andrew Haswell Green, and twentieth-century powerbroker and master builder Robert Moses; museum presidents Morris K. Jesup, Henry Fairfield Osborn, and Ellen Futter; and American presidents, polar and African explorers, dinosaur hunters, and German rocket scientists.
Richly illustrated with period photos, The American Museum of Natural History and How It Got That Way is based on deep archival research and interviews.
Reviews and Endorsements
This is, in many ways, a particularly American story, and anyone interested in history or museums will find this a very satisfying read. Author Colin Davey had a life-long love affair with the museum, growing up in New York and spending many, many hours happily lost in the museum collections, and that shines through in his writing as does his fine, in-depth research. Plenty of excellent graphics and photographs support this fascinating history. ― Seattle Book Review
This volume makes a valuable contribution to our knowledge of one of the most iconic American institutions devoted to science and popular education, especially regarding astronomy and space science, over the course of more than a century. Deeply researched and illustrated with 50 black-and-white period photos and numerous diagrams, the work is not only a pleasure to read but will serve as a notable reference for years to come. Planetarians everywhere can benefit from a short to an in-depth perusal of its pages. ― Planetarian: Journal of the International Planetarium Society
Want to learn more fascinating history about the Museum of Natural History? In honor of its 150th anniversary, Colin Davey and Thomas A. Lesser have brought out a new, definitive history of the Museum. The book, The American Museum of Natural History and How It Got that Way, provides a history of the museum's architecture, collections, exhibitions, and research and conservation efforts, charting the institution's relationship with the natural world and with New York City. In these pages, you'll find polar explorers, intrepid archeologists, and visionary rocket scientists who devoted their lives to discovery and, in many cases, to the Museum itself. ― Lucie Levine, 6sqft
An adroitly written and researched narrative. ― Gotham: A Blog for Scholars of New York City History
The American Museum of Natural History and Rose Center for Earth and Space are treasures that reveal our connection to and long fascination with the world around us and the universe beyond. Through their doors we enter into an expedition of our own full of discovery and revelation. The American Museum of Natural History and How It Got That Way throws those doors open and allows us insights into the events, personalities, and artifacts that define and continue to shape this world-class institution! Colin Davey with Tom Lesser invite us in with details and stories that could come only from deep and thorough research and dedication to veracity! This book is a must for all naturalists, historians, and lovers of art, museums, and New York! ― Stephen Christopher Quinn, Exhibition Associate, The American Museum of Natural History
One of my most cherished childhood memories as a visitor to New York was the breathtaking moment when the lights were lowered at the Hayden Planetarium and the skyline of the city and the night sky emerged. Thanks to Colin Davey's similar experiences that led him to write this informative book, it rekindled that magical moment for me and explained in great detail the wonderful story of an institution I loved but knew so little about. ― Sara Cedar Miller, Historian Emerita, Central Park Conservancy
What the Museum has done, in different ways, through the different stages of its life, is to feed the human sense of wonder at the universe. ― Kermit Roosevelt III, from the Foreword
The American Museum of Natural History is one of New York City's most beloved institutions, and one of the largest, most celebrated museums in the world. Since 1869, generations of New Yorkers and tourists of all ages have been educated and entertained here. Located across the street from Central Park, the huge structure, spanning four city blocks, is constructed of many buildings of diverse architectural styles built over a period of 150 years. This is the first book to tell the story of the museum from the point of view of these buildings. The American Museum of Natural History and How It Got That Way combines them with New York, American history, and the history of science. ― Prehistoric Times
A gigantic treasure chest stands next to New York's Central Park, filled with the wonders of prehistoric times, life on Earth, and deep space. For me, the American Museum of Natural History and Hayden Planetarium were like a second childhood home. I'm so glad for this book, which at last tells its remarkable story. ― Andrew Chaikin, A Man on the Moon