---
The Unissued 1960 Meade Lux Lewis Party Tapes
by Colin Davey
In 1960, a small group of friends and fans of Meade Lux Lewis hosted numerous gatherings where Meade held forth at the piano. What made several of these gatherings remarkable is that Mike Payette recorded the proceedings with his reel-to-reel tape deck. Those tapes collected dust for almost 50 years, until Seaton Blanco (a retired middle-school music teacher who had played bass with Dave Myers & the Surftones in the 1960s) contacted me, having found my Boogie Woogie Press website: "Dear Sirs: My father [Horace Blanco] was friends with Meade Lux Lewis and he played for many a party at our house. I am in possession of four or more reel-to-reel tapes made at these parties..."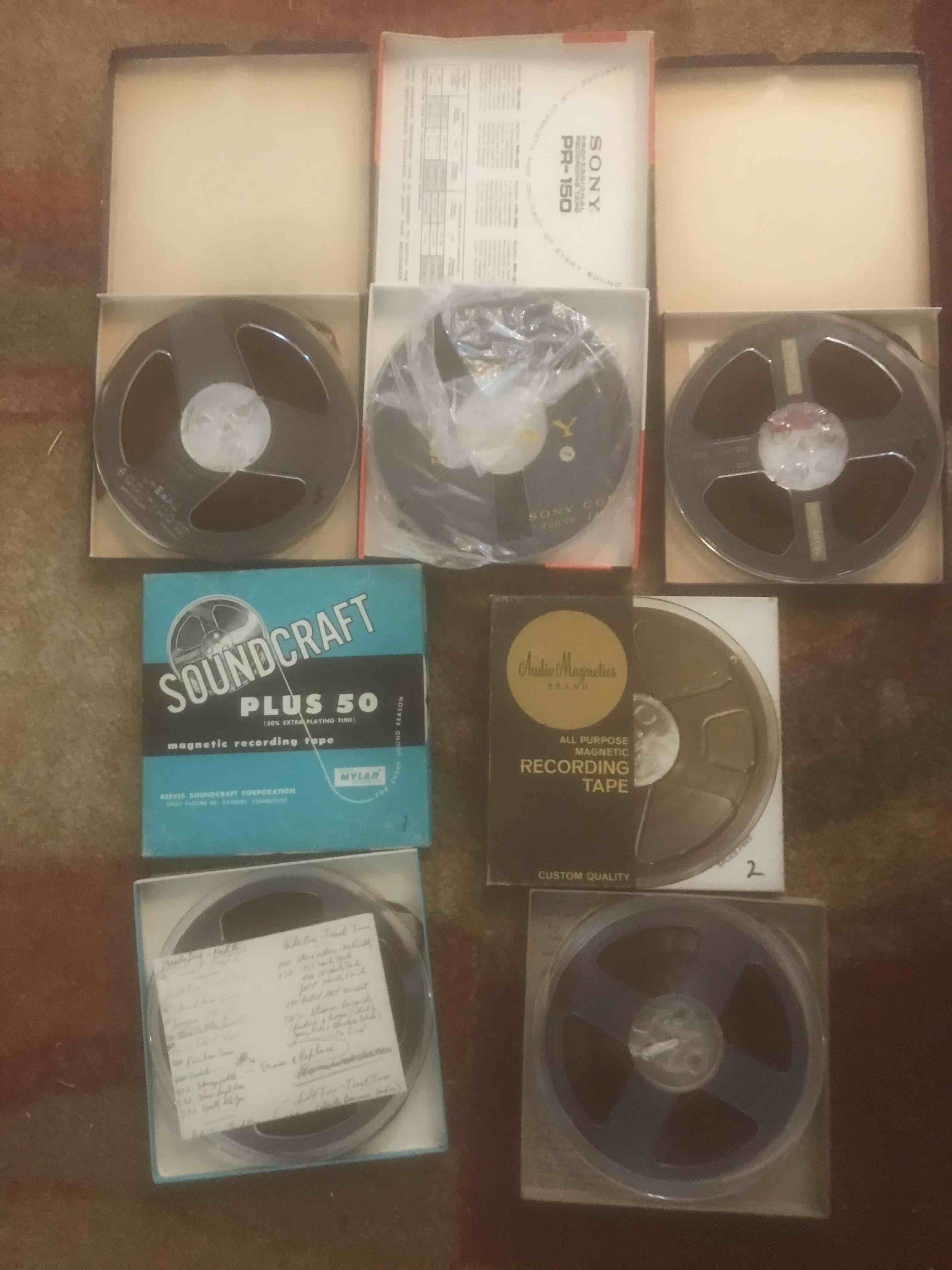 In 1960, Meade was living in Los Angeles where he had been living since 1941. He did occasional touring and recording, and he played gigs at local restaurants, including the Shore House in the Belmont Shore neighborhood of Long Beach, where he became friends with customers Mike Payette, a journalist and entrepreneur, and Horace Blanco, a bass player who had been a North Dakota state-champion violinist, and who ran the classified department of the Costa Mesa Daily Pilot for his day job. Sometimes after hours, the three would go to Mike's place to listen to Fats Waller records.
Meade later played at a restaurant on Wilson and Harbor Blvd. in Costa Mesa called the Hudson House. As Seaton recalled, "My dad would go and sit in with him on bass and sometimes I was the designated driver."
The tapes reveal a side of Meade previously unheard over the course of three events during 1960. They also include commentary by Mike, added after Meade's death, with details about Meade and the events.
Mike Payette introduces Meade Lux Lewis, the party tapes, and the time Meade and friends stopped by Mike's apartment.
Some time in 1960, Meade stopped by Mike's Seal Beach apartment on his way to an afternoon fishing trip, accompanied, as Mike recalled, by his stepbrother Eddie, and friend Cuz Weatherby. (Meade Lux Lewis scholars have been unable to verify that he had a stepbrother.) When Meade discovered that Mike had a new piano, he had to try it out. Meade played, they drank beer, Mike tried out his new tape recorder, and they never did go fishing. The reel-to-reel tapes include three tunes from this session.
Meade Lux Lewis plays Untitled Boogie on visit to Mike Payette's Seal Beach apartment.
Meade Lux Lewis plays Untitled Blues on visit to Mike Payette's Seal Beach apartment.
On August 16, 1960, Mike and Horace arranged a party that doubled as both birthday party for Horace, and a surprise house-warming party for family friends Jack and Pat Blackketter. They got a pickup truck, put a piano in the back, and drove up to the house with Meade playing Bill Bailey on the piano. The party went from five in the afternoon to 3:15 am the next morning, with Meade being the last to leave. Most of the people at the party worked at the Daily Pilot.
Mike was there with his tape-recorder, and the tape includes 20 songs, as well as plenty of party chatter and atmosphere. Some photos or home movies may have been taken at this party, as the following remark can be overheard: "try to smile during this number, you're on camera." However, no surviving film from the event has been found. As Mike recalled, the party ended when Meade "put his head and his arm down on the piano and drummed with one finger for a few minutes, and then called for a cup of coffee, and then called for Beulah to take him home."
Meade also played at the 1960 New Year's Eve party of Blanco family friends John and Jane Perry, with Mike on hand to record the proceedings, resulting in the recording of 25 tunes, and once again, plenty of party chatter and atmosphere. The rented piano had what Mike called a "rinky-dink" attachment, which can be heard on some of the recordings as a harpsichord-like sound. At this party Meade is accompanied by Horace Blanco on bass. According to Mike, "the crowd was small, the booze was large."
At one point, as Meade is blowing the roof off the joint with an 11-minute whistling number, we can hear the toilet flush, and then the following conversation:
"Who flushed the toilet?"
"I got a straight flush."
"Kings full [house]."
"Does four aces do anything?"

As midnight approaches, we can hear the crowd waiting for the new year to arrive, and then breaking into Auld Lang Syne accompanied by Meade. A little later, when a woman offers Meade a drink, his big gravelly voice booms, "One more drink, and I'll tell it all."
Seaton also recalled parties at the Blanco residence (that were not recorded by Mike) where between the sets, they would play Fats Waller records, and Meade would dance the jitterbug. According to Seaton: "He was light on his feet for a man of his size." The day after one of these parties, there was a big pile of sawdust under the piano pedal, which was no longer functional having been kicked so long and hard by Meade.
Seaton also related the following story about a party at his parents' house: "I was invited to play with him [Meade] and I was in college at the time. He only played in the key of C except for one song that was in A flat and I forget the name of the song. Anyway I was nervous and he let me play with him. Then he decided to burn me with a really up-tempo song that went on for what seemed for hours, until I begged for mercy." Seaton's sister Sue recalls Meade playing for her 16th birthday party in December of 1961, and this may have been the same party as the one from the previous story.
On these tapes, similarly to his commercial recordings from this period, he plays mostly jazz standards and none of his signature boogie-woogie stylings. But we also hear a side of Meade not heard on any of his commercial recordings -- he does a lot of singing and scat singing. Meade's grandniece, Denise Buckner, recalls that Meade mostly sang when he played for the family, and Chris Albertson, who produced Meade's 1961 album, 'The Blues Piano Artistry of Meade Lux Lewis,' recalled that Meade wanted to record some of his singing. The party tapes contain around 50 tunes, including:
Ain't Gonna Give Nobody None of My Jelly Roll
Blue Prelude
But Not For Me
C Jam Blues
Exactly Like You
Frim Fram Sauce
Honeysuckle Rose
How Long Blues
I'm Confessing That I Love You
If You Hadn't Gone Away
Love for Sale
Marie (The Dawn Is Breaking)
My Baby Just Cares for Me
My Funny Valentine
Pennies From Heaven
She's Funny That Way
Sheik of Araby
Stardust
On the Sunny Side of the Street
Sweet Sue
That Sugar Baby of Mine
The Lady Is a Tramp
There Is No Greater Love
What a Difference a Day Makes
Yancey Special
You're Driving Me Crazy
As well as blues numbers and songs that we couldn't identify.
As Seaton put it, "Colin, remember this was in the early sixties, at the height of racial tensions in the U.S. I look back and find it amazing that Meade was in our house with a totally white contingency and that he invited Mike and my parents into his neighborhood and friends. Thank God for music!" But it wasn't all a racially tolerant paradise. Sue Blanco recalls one time when Meade stopped by the family home when her parents weren't home. She invited him in, but he stayed outside until her father came home, which puzzled her. Only later did she realize that this was because he was Black, and he didn't want people to talk.
I'll let Mike Payette have the last word. "Meade was a great huge, round, black man with a great huge multicolored heart. He loved people, he loved food, he loved booze. But I think above all, he loved music, which should be fairly obvious in these recordings."
In memory of Seaton Blanco (1943-2019).
Thanks to Seaton Blanco for providing the tapes and memories; Paul Blanco, Sue Blanco, and Sheri Fahy for sharing their memories; and Michael Hortig, Konrad Nowakowski, and Axel Zwingenberger for their insights into the historical context of these tapes; and Taft Chatham, Frank Poloney, Christoph Rois, and Carl Woideck for help identifying some of the songs from the tapes.